FileCOPA supports a variety of servers. For further details of each, please select a link below.
Multiple instances of all servers can be run, using different port numbers, eg two FTP servers could be run, one on port 21, the other on port 8021
Servers can be accessed via a hostname or IP Address (but make sure that if there is a router between the server machine and the internet, then the relevant ports are forwarded). eg for the FTP Server:
192.0.2.10
Once servers have been set up and configured, you may need to allocate one or more users to each server so that the login can be managed. If you do not need the person accessing the server to login (ie with the HTTP and HTTPS servers) then this isn't necessary.
The Web Servers (HTTP & HTTPS) offer a range of facilities, including access to PHP, but do not support some functions, such as .htaccess files and Server Side Includes.
However, our HTTP WebFTP and HTTPS WebFTP servers provide a ready-made means of providing a Browser-based interface with the FTP Server
See also the information below about Virtual Hosts and about the installation of PHP on the HTTP and HTTPS Server pages.
Click a Hotspot

on the image below for further information.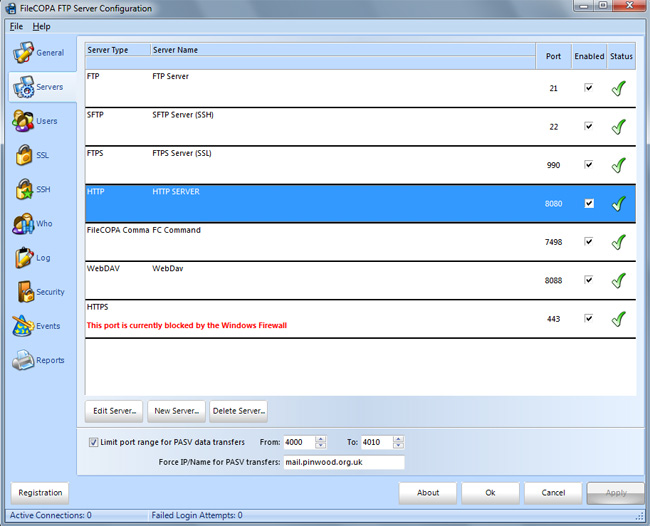 For details of each server, please select a sub-topic from the list on the left.