Customers can't connect to my FileCOPA FTP server Software using Passive FTP
You need to allow some ports through your firewall for passive FTP access. In passive FTP the FTP server software will open a TCP port for the client to connect to to send/receive data. Whereas in normal FTP mode it is the client that opens the data port.
If you open the FileCOPA FTP Server Software configuration screen you can select which ports will be used for passive FTP.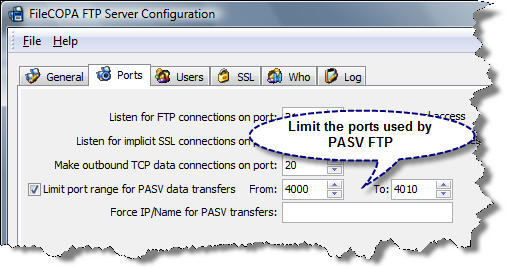 You need to open enough ports for the maximum number of simultaneous connections you are likely to receive. You then need to allow these ports through your firewall.
In some cases the FileCOPA FTP Server Software will be running on a machine behind a router. The router will have the "real" internet IP address and the machine FileCOPA is installed on will have a private IP address. As FileCOPA knows nothing of your router it will report the private IP address back to the client. This cannot work. If you call up the FileCOPA configuration panel you can give FileCOPA the name, or IP address of your router.

FileCOPA will then report this address back to the client. You will need to make sure your router is configured to port forward any requests on the passive FTP ports to the private IP address of the machine FileCOPA is running on.